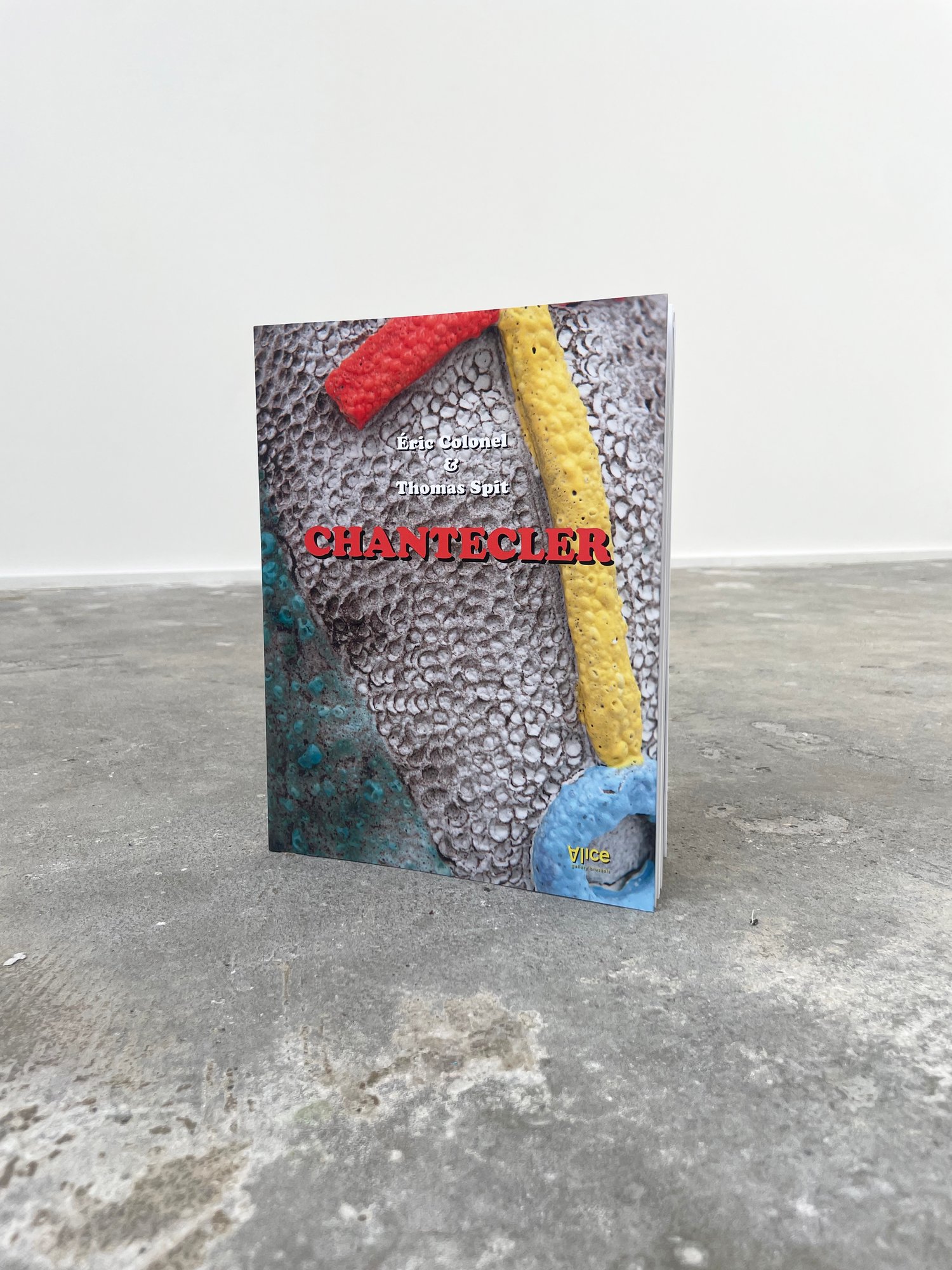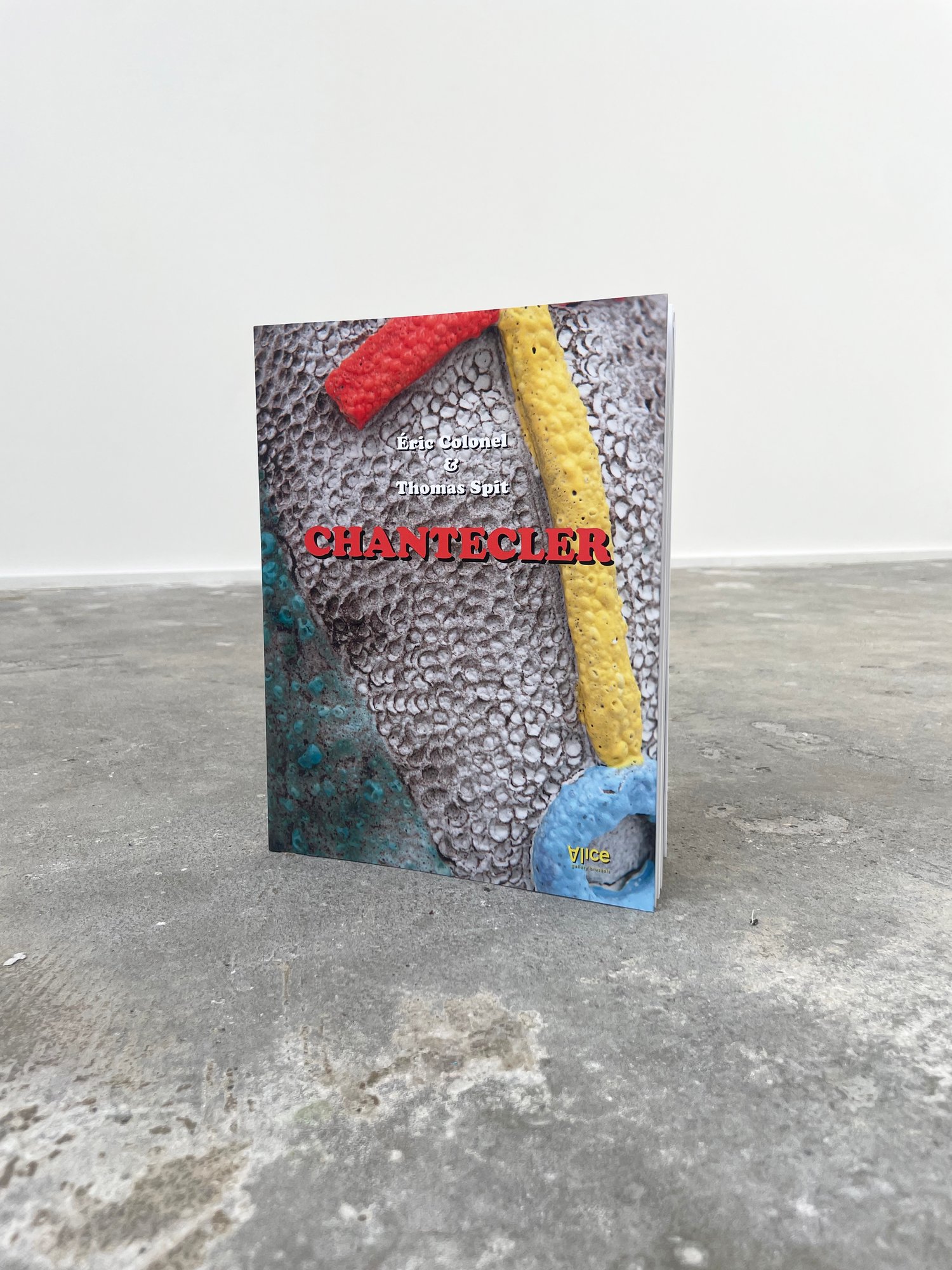 Mon Colonel & Spit - "Chantecler"
€39.00
Mon Colonel & Spit - "Chantecler"
En 2015 Le duo remporte le prix de la Commission des Arts de Wallonie en présentant des poteries en terres cuites emmaillées recouvertes de textes et de dessins semblables à leurs œuvres papiers. Ils commencent alors à fréquenter les cours des artistes céramistes Dominique Matagne et Gilette Fosty. En 2017 Mon Colonel & Spit exposent pour la première fois au musée MIMA (Bruxelles) des sculptures ainsi que toute une série d'artefacts en céramique. Cette installation nommée « Show non merci » est la genèse de 40 ans de vie, de sensibilité́ artistique, de souvenirs, d'expériences et de rencontres qui ont fait d'eux des artistes. L'exposition devient alors pour le duo un réel déclencheur dans leur pratique, où l'art de la céramique prend une place presque exclusive.
Cet ouvrage a été publié à l'occasion de l'exposition « Chantecler » organisée à la galerie Alice du 19 février au 26 mars 2022 qui recense 250 sculptures anthropomorphiques en céramique. Les artistes Mon Colonel & Spit reviennent à travers un interview mené par l'auteur Pierre Henrion sur leur relation avec cette pratique qui est devenue au fur et à mesure des années un de leur principal médium.
Artistes : Eric Colonel & Thomas Spit
Titre : " Chantecler "
Pages : 143 pages
Langue : Français / Anglais
Publié par Alice Gallery, 2022
Format : 290 x 210 x 15 mm
Année : 2022
In 2015, the duo won a prize from the Arts Commission of Wallonia for presenting glazed terracotta pottery covered with texts and drawings similar to their paper works. They then started attending classes with ceramic artists Dominique Matagne and Gilette Fosty. In 2017 Mon Colonel & Spit exhibited for the first time at the MIMA museum (Brussels) sculptures and a whole series of ceramic artefacts. This installation named "Show non merci" is the genesis of 40 years of life, artistic sensibility, memories, experiences and encounters that made them artists. The exhibition then becomes for the duo a real trigger in their practice, where the art of ceramics takes an almost exclusive place.
This book was published on the occasion of the exhibition "Chantecler" organised at the Alice Gallery from 19 February to 26 March 2022, which includes 250 anthropomorphic ceramic sculptures. The artists Mon Colonel & Spit come back through an interview conducted by the author Pierre Henrion on their relationship with this practice which has become over the years one of their main medium.
Artists : Eric Colonel & Thomas Spit
Title : "Chantecler"
Pages : 143pp
Language : French / English
Published by Alice Gallery
Format : 290 x 210 x 15 mm (11.4 x 8.3 x 0,60 inch)
Year : 2022